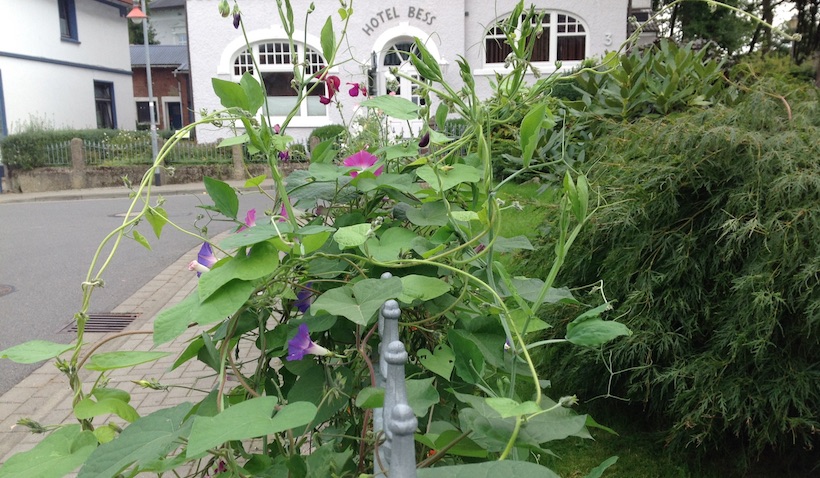 Tips for Leisure and Holiday In and Around Albersdorf
As our guest you can use our fitness room with treadmill and power station as well as our sauna in the main house free of charge. Or you relax in our park.
In addition, Albersdorf and its surroundings offer you many interesting destinations:
From the Museum of Archaeology and Ecology Dithmarschen, the Archaeological-Ecological Centre Albersdorf (German abbreviation AÖZA) and many other historical sites
via well-marked hiking and biking trails
and variety-packed golf courses
to excursions into surrounding cities, to North Sea coast and Baltic Sea coast.
Fitness Room and Sauna
You would like to use our fitness room and/or sauna in the main house? Of course, with pleasure. Please talk to us. We will prepare everything accordingly for you.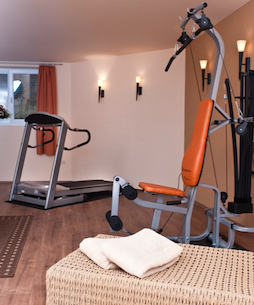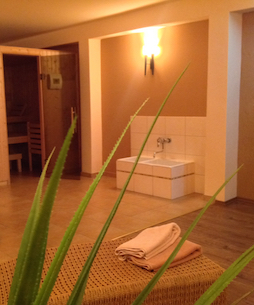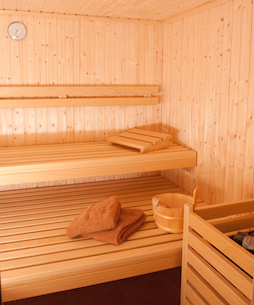 Our Park: 6.000 Square Meters Green
Our park connects the hotel with our cottage, coach house and mansion in a cosy way. Its old trees create a quiet and restful atmosphere. Various seating areas invite you to linger in nice weather. Perhaps you'll meet one of our lively squirrels.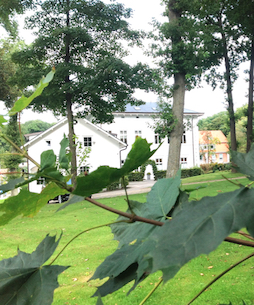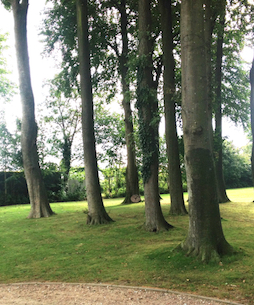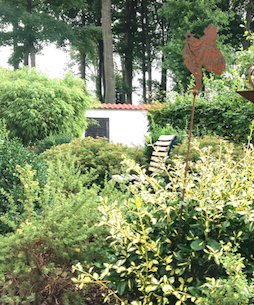 State-approved Climatic Spa Albersdorf
Albersdorf is one of the most popular excursion destinations in Dithmarschen. The proximity to the North Sea and the surrounding forests and meadows ensure a particularly healthy climate. Interesting destinations in the village can be explored on foot without great effort.
Brutkamp
It is not without reason that the region around Albersdorf is often referred to as the "Classical Square of Archeology". Many archaeological treasures from the Neolithic and Bronze Age can be found here.
One of them is the Brutkamp, ​​a Neolithic dolmen (3500-2800 BC). On five upright, slightly inwardly inclined supporting stones lies the largest deck stone of Schleswig-Holstein with a weight of about 25 tons and a circumference of almost 9 meters.
Magical powers are supposed to be here. While the Brutkamp was originally erected as a burial place, young men and women were still here in the Christian era in order to ask the Nordic goddess Freya to have a rich child's blessing. Many legends and legends deal with it.
From our hotel follow the Brutkampsweg to the left till he ends, turn right onto the Brutkamp and cross the Wulf-Isebrand road. You will reach the small park with old lime trees after only 350 m on the left side of the road. Just opposite the Wulf-Isebrand school.
For more detailed information about megalithic tombs and stone graves in general and the "Brutkamp" in particular, please contact the Museum of Archeology and Ecology Dithmarschen in the Bahnhofstraße, which is only 400 m away from the Brutkamp or from our hotel. Other Neolithic tombs can be found in the Albersdorfer Papenbusch (small dolmen with attached course) as well as in the Bredenhoop (longbeds).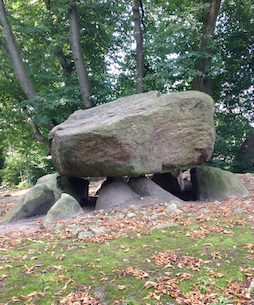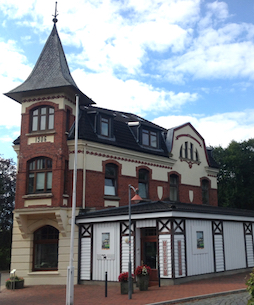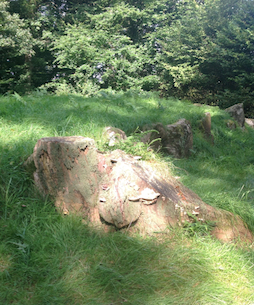 Archaeological-Ecological Centre Albersdorf (German abbreviation AÖZA)
The Archaeological-Ecological Center Albersdorf, the so-called AÖZA Stone Age Park, offers you archaeological monuments, accessible by well-developed and signposted hiking trails: grave mounds, great steers and longbeds. In the "Steinzeitdorf" you can experience the Stone Age up close - according to archaeological and scientific findings.
Travel into the time of the first farmers and cattle breeders of Northern Germany. Go back 5,000 years and immerse yourself into the life of a Stone Age village.
On the website of the AÖZA you will find out which public events take place during your visit. However, you can also carry out individual programs. Just inform us when booking your room. We arrange everything else for you.
"Steinzeitdorf on your own"
From April to October, you can explore the Stone Age village on your own from Tuesday to Saturday from 11 am to 5 pm. On these days, with few exceptions, no programs take place.
"Living in the Stone Age Village"
Demonstrations and participation in stone craftsmanship will lead you into the past. How much Stone Age man is still in you? How skilled are you to shoot at the bow, to make pottery, to strike the flint and to bake bread? You can take part in these and other events from April to October every Sunday and holiday from 11 am to 5 pm.
"Hiking in the Stone Age"
Experience impressive monuments, Stone Age reconstructions and varied landscape during a guided tour of the AÖZA terrain.
Public guided tours take place between 11 am and 5 pm every Sunday and holiday from April to October.
The AÖZA is located directly in Süderstraße 47. From our hotel only about 1 km away. → More information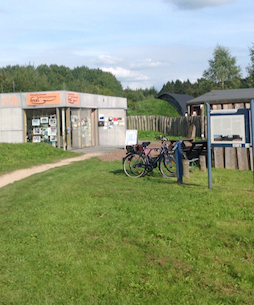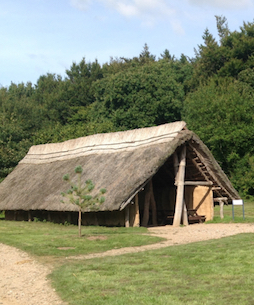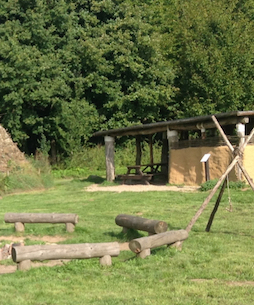 Hiking In and Around Albersdorf
Hikers can take a break in Albersdorf on the Nord-Ostsee-Wanderweg from Meldorf to Kiel or the Schlei-Eider-Elbe hiking route from Schleswig to Hamburg. But you can also take it a bit quieter. For example on one of the well signposted hiking trails in and around Albersdorf.
Hiking trail 1 - Stone Age Park (orange)
Start at AÖZA-parking lot (app. 3,3 km) or directly at our hotel (app. 5,3 km)
Stone Age park AÖZA | Prehistoric dolmen graves | Nature trail | Long barrows | Stone Age area with old breeds
Hiking trail 2 - Lisbeth ehrn Diek (blue)
Start at AÖZA-parking lot (app. 2,7 km) or directly at our hotel (en route)
Stone Age park AÖZA | Erratic boulder garden | Prehistoric dolmen grave "Brutkamp" | Tumults with viewing tower | Woodland hiking trail | Fish ponds Lisbeth ehrn Diek | Bredenhoop-trail
Hiking trail 3 - Deep bottom (yellow)
Start at the museum/railway station (app. 3,7 km) or directly at our hotel (app. 5 km)
Mansion district "Grossers Allee" | Woodland hiking trail through the "Tiefer Grund" (deep bottom) | "Ochsenweg" - historical overland route of the ox-traders | Tumuli "Dreebargen" | Forest road
Hinking trail 4 - Mill pond (green)
Start at the museum/railway station (app. 3,3 km) or directly at our hotel (app. 4,7 km)
Woodland Wiking trail though the northern "Papenbusch" | Way to the water park | Side trip to the old water mill | Mill pond, "Barbaraweg" | "Feldmark" and "Ellingstedter Weg" | Prehistoric dolmen grave behind the youth hostel | Spa gardens "Papenbusch"
Hiking trail 5 - Village tour (purple)
Start at market square/central bus terminal (app. 2,2 km) or directly at our hotel (en route)
"Eichstraße" with very old oaks | "Amtsbüro" (historic administration office) and "Kanalbau-Villa" (mansion of the builder of the Kiel canal - Nord-Ostsee-Kanal) | Museum at the railway station | Spa gardens "Papenbusch" | Prehistoric dolmen grave behind the youth hostel | "Bürgerhaus" | Church St. Remigius with churchyard | War memorials
Hiking trail 6 - Around the Gieselau (Gieselau creek)
Start from hiking trail 1 or 2 (+ app. 1,8 km)
Loop around "Gieselautal" (Gieselau creek) with view from a steep rock slope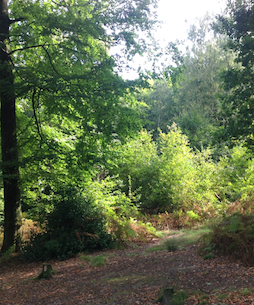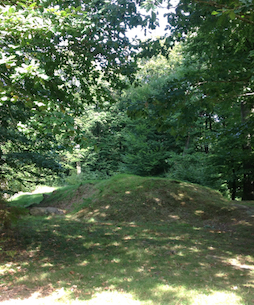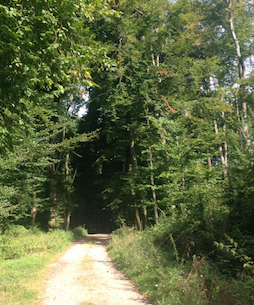 Bike Excursions
In addition to the Kiel Canal Route (Nord-Ostsee-Kanal Route, NOK-Route), numerous cycle paths lead through meadows and forests, marshes and geest. To Rendsburg or Meldorf, Heide or Friedrichstadt you can drive by car. But you do not have to. Take the bike and enjoy our fresh, healthy air.
Explore Bredenhoop and Gieselautal, the approx. 40-hectare nature experience around the AÖZA. Ride ice age drylands in the deep bottom. Visit the world-famous shell stone in Bunsoh just 3.5 km from our hotel. Accompany small and large ships along the Kiel canal along the way. Discover and experience technical masterpieces, historic town houses and narrow streets in Rendsburg.
In Albersdorf and surroundings you have many possibilities for short and easy cycling, but also for long and medium difficulty.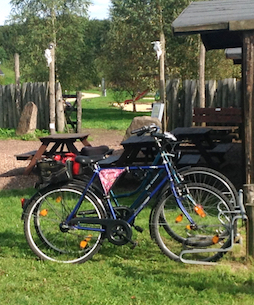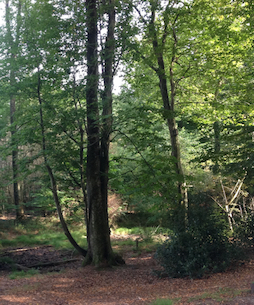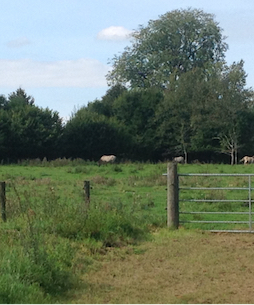 Excursions in the Surroundings
For example (distances approx. and without guarantee)
Explore cities
Heide with the largest German market square (15 km)
Meldorf with cathedral, medieval charm and shallows in front of the city gates (18 km)
Rendsburg for a special city tour (35 km)
Friedrichstadt with gables and canals, as if you were in Holland (35 km)
Hamburg (90 km)
To the North Sea coast
Peeling shripms in Büsum (40 km)
To the Multimar Wattforum in Tönning (40 km)
To the seals in Friedrichskoog (40 km)
To the North Frisians in Husum (50 km)
Kitesurfing in Sankt Peter Ording (60 km)
To the Baltic Sea coast
To the Eckernförder Bucht (60 km)
To the coastal trail in Kiel (70 km)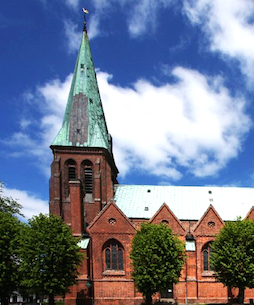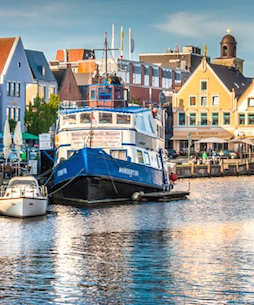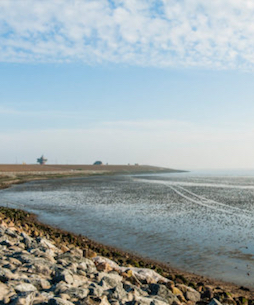 City of Rendsburg
Rendsburg, an 800 year old town with technical masterpieces such as a railway bridge and suspension ferry, historic town houses and narrow streets, as well as Baroque Neuwerk and representative parade square, invites you to a tour of the special kind and to stay at the Kiel Canal.
City tour

Go on an approx. 3.2 km long discovery trip through the historic Rendsburg - always along the blue line on the pavement. Start at the tourist office in the Old Town Square, at the Pulverschuppen or wherever you meet the "blue line". Since it is a circular route, you will safely return to your starting point.


Railway bridge

For dizzy explorers: climb the airy heights of the Rendsburger railway bridge through a spiral staircase. 178 steps for a great view over the Kiel Canal, Mittelholstein and Rendsburg. Built between 1911 and 1913, the bridge spanned the canal at a clear height of 42 m with a support span of 140 m. Guided tours start on the Rendsburger side of the bridge on Sundays.


Hovercraft

In December 2015, you could have crossed the Kiel canal with the world's only hovercraft. The 14 m long and 6 m wide gondola (ferry platform) hung on four 35 m long supporting cables and eight stiffening ropes on a steel structure, which comprised the railway bridge bridge with a total of eight wheels running on rails running from below in a U-shape. Driven by four engines, up to 6 cars and 60 pedestrians crossed the canal in just two minutes.

Unfortunately, in January 2016 there was a clash between the old ferry and a motor ship. The historical means of transport was so badly damaged that no repair is possible. Meanwhile in Berlin it was decided that there should be a new building. When it can be started, however, is still unclear.


Longest escalators in Europe

The escalators leading to a deep of just 21.5 m under sea level are among the longest in Europe. The pedestrian tunnel itself with a diameter of 4.50 m runs about 130 m long under the Kiel canal.


Ship welcoming station

40,000 seagoing vessels and 10,000 sports boats cross the Kiel canal every year. On average, this is a considerable 136 per day. On the terrace or in large, cold-closed winter gardens of the ship welcoming station in the Café & Restaurant Brückenterrassen also non-seafarers learn about the ships only a few meters away. The national anthem of the country of origin of the ship is played and the flag of Germany is "dipped" at the big flagpole. With some luck the captain of the ship greets with the Tyfon.

Please note that it is usually a little bit narrower when passing dream boats on the bridge terraces. If you want to have a seat in the café, it is worth making a reservation in advance.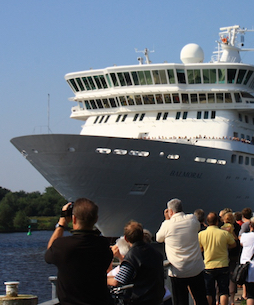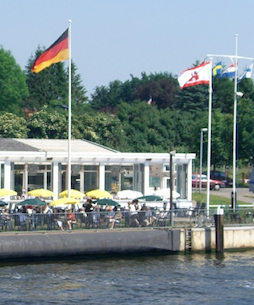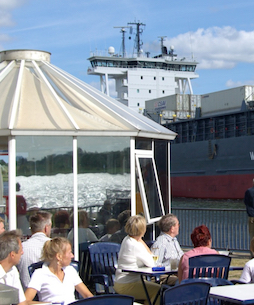 Golf Courses
Gut Apeldör
27 golf courses in a typical sandy uplands on the German North Sea coast as well as
Big Apple Par 72 | 9-hole Audi Course par 36 (public) | Direct golf facility with floodlights | 30 tees | PGA golf lessons with minimum handicap lessons
In a distance of about 18 kilometers
Am Donner Kleve, St. Michaelisdonn
Playing golf in all kinds of weather in a typical German landscape at the edge of the nature reserve "Donner Kleve" as well as
Different golf courses | Driving Range with water obstacle, Chip and Pitch place, Exercise bunkers and Putting green | A new 18 hole golf course | A 6 hole training course
In a distance of about 26 kilometers
Warwerort, Nordseeheilbad Büsum
A beautiful, natural golf course, situated below sea level, as well as
9 and 18 holes | Interesting challenges with shallows and natural obstacles, wind and sun | Links course | Driving range | Golf lessons with individual lessons and lessons in groups
In a distance of about 35 kilometers
Lohersand, Rendsburg
Insiders' tip for golf player of every playing abilities as well as
Wood and heath lands, water and biotope | Unique experience with a highly sporty attraction
In a distance of about 37 kilometers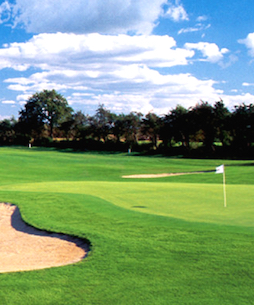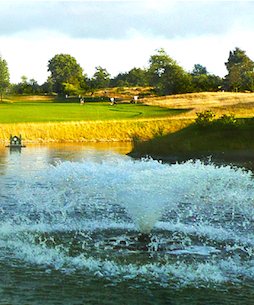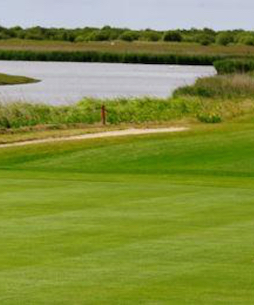 For the Best Days In Your Life: Laue Festgarderobe in Tellingstedt
Only 10 km away you will find Laue Festgarderobe, the special house for festive ladies and gentlemen clothing as well as bridal wear in Tellingstedt. With a wide selection of women's, men's and bridal fashion and a professional sales team that will take care of all your wishes and a relaxed shopping atmosphere. On an area of about 5,000 square meters, you will find everything the shopping heart desires. Thus, the confirmation outfit is just as much an assortment as the outfit for the Golden Bridal Couple. → Further information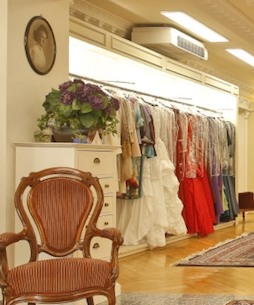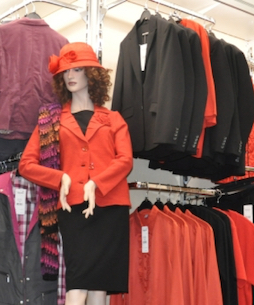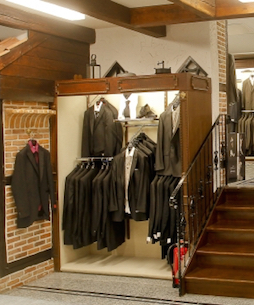 Sweet Temptation: Candle Court Café Schafstedt
Since 2001, the "Kerzenhof" has been home to a museum, a café and a gift shop. Here you can comfortably enjoy the sweet side of life. The farm has established itself as a cultural center in the region, offers space for photo and picture exhibitions, concerts and readings. → Further information